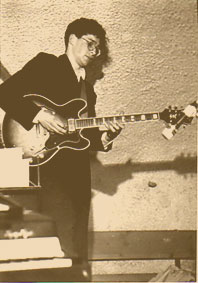 Frank Wingold studied jazz and classical guitar at the well-known Hilversum Conservatory. Now he lives in Cologne and is part of various local bands. He is professor for jazz guitar at the Univeristy for Applied Sciences Osnabrück/Germany and teacher for jazz guitar at the Prins Claus Conservatoire Groningen/Netherlands.
He combines classical, jazz and rock oriented techniques on accoustic and electric guitars in developing his own style of improvisation and composition. His influences include the classical repertoire of the 20. century, traditional and modern jazz, the history of rock music and the music of eastern European and oriental cultures.
The first release of his quartet 'Clairvoyance' has receivedenthusiastic press reviews. Since 2006, the band performs regularly in clubs and at festivals. In November 2011 the second CD's `virtues and vices' was released at Double Moon Records.
In 1993 his trio "agog" won the "Europe Jazz Contest" in Brussels, where Frank also recieved the "Prize for Best Soloist". In 2002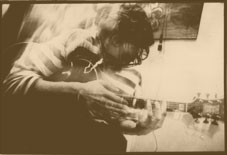 the trio won the "Dutch Jazz Competition" at the North Sea Jazz Festival. In 2008 the band released the 4th CD `Some Frump Punk´.
He is also a member of the well-known formation `Underkarl ', one of the most established European ensembles which tours regularly in Germany and abroad.
Regular concerts and tours in Europe, Russia, South America, India and China.
Composition and production of film music.
As a composer and musician in modern musical theater plays.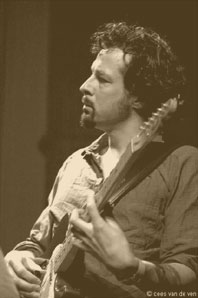 Numerous radio plays with composed and improvised music, with legendary radio drama director Heinz von Cramer also with simultaneously recorded music and language.
As a soloist and ensemble musician in the field of contemporary music in collaboration with the MUSIC FACTORY, shraeng, Giel Vleggar, Theodor Pauss, Georg Hajdu, Claas Willeke, the Helios Ensemble and at the International Summer Courses for New Music in Darmstadt.
Other activities:
Composer and player/improviser of two pieces for the EOS Chamber Orchestra.
Sideman of many different bands, ensembles and projects: Efrat Alony, What's the tonic, Stefan Scheib Quartet, Philip Schug Quartet, Thonline Orchestra, etc.
solo concerts